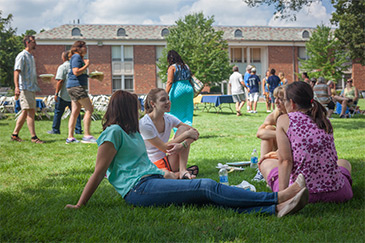 We know that you and your family have many questions and concerns as you begin thinking about all of the tasks you need to accomplish before you arrive on campus.
New Student Transitions & Orientation
As a new Juniatian, there are a series of activities and events throughout the coming months to help you prepare for your time as a Juniata Eagle:
Summer Orientation is a required one-day experience on the Juniata campus where you will receive vital information on how to be a successful student inside and outside of the classroom. You will meet with fellow students, tour sample residence halls rooms, and meet with an academic advisor to complete your first semester schedule. We ask for parents and families to attend our Summer Orientation programming.
Inbound is a strongly encouraged retreat-based experience in which you will join a cohort of other Juniatians to get to know each other and the Juniata and surrounding communities.
Fall Orientation is a required experience for new students where you will participate in final orienting activities and residential students will get settled into your new home.
Fall 2020 New Student Transition Dates
To register for Summer Orientation and Inbound, click on the link below for your preferred date. Inbound registration and retreat information will be available beginning March 1, 2020. Log in using the same e-mail address and password that you used for your Juniata admission application.
Inbound 1: Saturday, May 23 - Monday, May 25
Inbound 2: Monday, June 15 - Wednesday, June 17
Inbound 3: Tuesday, July 14 - Thursday, July 16
Inbound 4: Tuesday, July 21 - Thursday, July 23
Inbound 5: Saturday, August 22 - Monday, August 24
Fall Move-In & Fall Orientation: Tuesday, August 25 - Wednesday, August 26*
First Day of Classes: Thursday, August 27
*Students from abroad will work directly with the Center for International Education and Juniata athletics to determine arrival date and travel plans. Fall Athletes will also have an earlier arrival date determined by sport; communication for each team's arrival will come directly from the respective coach.
New Student Next Steps
Now that you are a Juniata student, we know you have many questions about what to do next. Please refer to the items below to help guide you in this process.
Look for your New Student Information Packet via USPS the week of March 16, 2020.
Set up your Juniata online account and check your Juniata email regularly prior to orientation and leading up to the fall semester. Instructions for account creation will be in your New Student Information Packet.
Register for Summer Orientation beginning February 3, 2020.
Register for an Inbound retreat beginning March 1, 2020.
If applying for Federal Student Loans, complete the Federal Student Loan Entrance Counseling and Master Promissory Note.
Request to have AP scores and college transcripts from other institutions sent to the Registrar's Office.
Complete your Course Registration Information Form by June 15, 2020 (available May 1, 2020).
Complete and return your Health Form prior to your arrival on campus.
Complete your Housing Application and Roommate Preference Form by June 30, 2020 (available June 1, 2020).
Contact the Student Accessibility Services Office to request accommodations if desired.
Register your vehicle if you would like to bring your vehicle to campus (available August 1, 2020).
Complete your online training modules related to alcohol, sexual assault & interpersonal violence prevention, and equity, diversity & inclusion (available via your Juniata email by July 20, 2020).